Pida su estimado de Producto
SOLICITA UNA COTIZACIÓN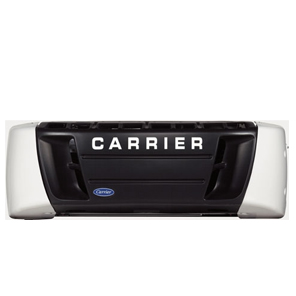 Proven, all-around performance for medium-sized trucks.
Offers proven reliability, with millions of operating hours under the most demanding conditions.
Refrigeration capacities up to 20,000 BTU under AHRI rating conditions.
Industry standard for reliability
Helps ensure low overall cost of operation.
Allows for dependability and multiple application flexibility.
Sleek design is damage-resistant.
Powerful CAB COMMAND™ in-cab control.
Optional electric standby system optimized for high cooling capacity.
High-performance, maintenance-free integrated fan/motor assemblies with an expected 10,000+ hour motor life.
Maintenance-saving Extended Service Interval (ESI™) oil system with a 1,500-hour service period.
Drive and electric system enhancements for better performance and reliability.
Condenser Dimensions: 71.7″ x 33.7″ x 24.7″ (1,823 x 856 x 629 mm)
Evaporator Dimensions: 48.2″ x 24.9″ x 11.1″ (1,225 x 632 x 283 mm)
Body Opening: 49.0″ x 12.2″ (1,245 x 310 mm)
Approximate Weights:
TDB-19: 933 lb (423 kg) without standby
TDS-19: 978 lb (444 kg) with standby
Cooling/Temperature Capacity: Ambient at 100°F (38°C), Speed: 2,400 rpm diesel/60-hertz, electric operation
Condition: Nuevo o Usado
CT3-44 TriVortex diesel engine
05K12 2-cylinder compressor
Long life spin-on lube oil filter
Long life maintenance-free evaporator fan motors
Automatic hot-gas heating system
Refrigerant R-404A
Three-way refrigeration valve system
Standard with electric standby (model TDS)

Heavy duty electric standby motor; 208v/230v-3ph-60hz
Remote-mount power receptacle

Microprocessor control system

CAB COMMAND remote control center
Critical Cargo Monitor (in cab)
Audible temperature alarm (in cab)
Red light visual warning alarm (in cab)
Automatic pre-trip system
Lighted CAB COMMAND keys
Main on/off system power switch

Display indicators

Cool-Heat-Defrost
Start/Stop-Out of Range
Engine Operation-Electric Standby

Digital readout

CAB COMMAND (in cab)
Engine coolant temperature
Unit suction pressure
Battery voltage
Engine run hours
Electric Standby hours
Maintenance interval hours
Total on-time hours
Setpoint temperature
Box return-air temperature

Automatic Start/Stop Fuel Saver
City Speed Control
Automatic defrost control
Extended life antifreeze
High coolant temperature protection
High-power 70-AMP alternator
Heavy-duty dry air cleaner
Low engine oil protection
High refrigerant pressure protection
Low refrigerant pressure protection
Receiver tank pressure relief
Bottom panel
Installation package

Electric fuel pump
Fuel lines
Battery cables
Installation hardware
Fuel tank pickup tubes